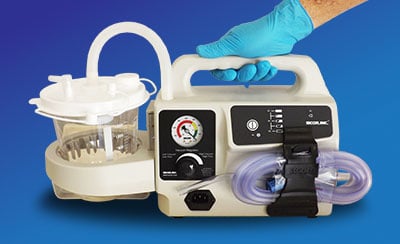 Virtually every medical office worker, dental care provider, hospital employee, or first responder must use medical suctioning. Suctioning can be an important emergency intervention as well as a key aspect of routine care.
The type of suctioning a provider must use depends on many factors, including the health of the patient, the type of suctioning machine available, and the reason for suctioning. Understanding the various types of suctioning you might use can help you choose the right tools and ensure you and your team are always well-trained on the latest techniques.
Nasotracheal vs. Oropharyngeal Suctioning
Both nasotracheal and oropharyngeal suctioning can accomplish the same thing. Oropharyngeal suctioning is generally easier and more widely used than nasotracheal suctioning, which is typically reserved for situations in which there is no other option.
Nasotracheal suctioning is the superior option in cases such as these:
Severe jaw or mouth injuries
A spontaneously breathing patient
Repeated failed oropharyngeal suctioning


Clearing Secretions
Suctioning can clear secretions from the airway, enabling patients to breathe more efficiently. Patients may need help clearing secretions in several scenarios:
The patient is sedated or in an altered state of consciousness because of a neurological injury.
The patient has a muscular injury that impedes their ability to cough.
The patient has an artificial airway.
The patient shows signs of respiratory distress.


Emergency vs. Preventative Suctioning
Dozens of medical contexts may require suctioning. They generally fall into two broad categories: routine or preventative suctioning and emergency suctioning.
A provider performs emergency suctioning when the patient is hypoxic, in respiratory distress, actively aspirating, or experiencing another medical emergency that makes it difficult to breathe or clear airway secretions. Some examples of this type of suctioning include:
Suctioning the airway of a patient who is vomiting under general anesthesia
Suctioning the airway of a person who is in anaphylactic shock
Suctioning the airway of a person with COPD or another respiratory disease who is hypoxic and unable to clear their own airway
Suctioning the airway to remove a foreign object such as a tooth that breaks loose during oral surgery


Routine and preventative suctioning procedures clear the airway, prevent debris from entering the airway, and protect the airway when a patient is sedated or under general anesthesia. Some examples of this type of suctioning include:
Suctioning in dental practices (dentists often use suctioning to remove excess saliva during examinations and oral surgery)
Suctioning to clear artificial airways
Suctioning a patient at risk of aspiration, such as one who is bleeding from the throat or mouth


Although suctioning itself is a routine medical procedure, no patient should be routinely suctioned absent specific indications for suctioning, such as the inability to clear their own airway.
Suction Equipment
Suctioning supplies all aim to accomplish similar goals, but each option works a little differently. The most frequently used suction devices include:
Manual suction devices. These devices work using a pump and deliver the least consistent suction. Providers typically only use them when there is no other option.
Wall-mounted suction devices. A key tool in most hospitals and ambulances, these devices are large and effective. Doctors, field medics, and nurses typically use them for emergency suction, routine preventative suction, and suction under anesthesia.
Portable emergency suction machines. These are small, portable devices that deliver consistent suction wherever the patient is. Quality devices rival the efficiency of traditional wall-mounted units, but without the bulk. These machines are highly effective in emergencies, but can also aid with routine care, allowing providers more flexibility and versatility when choosing where to deliver care.

For help choosing the right portable emergency suction machine for your agency, download our free guide, The Ultimate Guide to Purchasing a Portable Emergency Suction Device.
Editor's Note: This blog was originally published in September 2019. It has been re-published with additional up-to-date content.