Dr. James DuCanto wants to make one thing clear: he didn't know what the implications would be when he started the project that would lead to the development of the SALAD technique. The project originally came about as the result of a question, curiosity, and a desire to make a difference. Seeing the rate of first pass failure in intubation among medical professionals, Dr. DuCanto asked himself, "How can I help them do a better job?"
It began with a simulation project that DuCanto says "felt a lot like the spewing volcano of the 7th grade science fair." He is, of course, referring to the mannequin that he engineered to simulate continuous airway contamination. But just a few years later, SALAD, or Suction Assisted Laryngoscopy and Airway Decontamination, has become a life-saving approach to airway management, "reengineering the top two factors that cause a failure of first pass success."
"If this is not addressed before the life-saving measures are applied, you can worsen the situation or completely lose the ability to resolve it."
Those two factors, as found in a recent study, are blood in the airway and airway edema. Continuous suction, as used in the SALAD technique, works to resolve the problem of airway contamination by looking at a side of airway management that Dr. DuCanto believes has largely been ignored: Regurgitation.
"I call it the dark side of airway management, the icky side. If this is not addressed before the life-saving measures are applied, you can worsen the situation or completely lose the ability to resolve it," Dr. DuCanto says, likening a contaminated airway to a puzzle that must be solved.
His penchant for problem-solving becomes even more evident when talking about the development of the SSCOR DuCanto Catheter. Seeing that the suction catheters currently on the market weren't ideally suited to the SALAD technique, Dr. DuCanto developed his own. It started with improvisation. Using wooden tongue depressors to open a patient's jaw allowed for easier insertion of the laryngoscope, a maneuver that saved up to 30 seconds in critical situations. This led to the idea for a different kind of catheter.
When he first encountered the SSCOR HI-D Big Stick Catheter, he thought it was just shy of perfect. Theorizing that it would be even better if it had more of a curve, Dr. DuCanto took a heat gun to a HI-D and adjusted its shape. Thus, the SSCOR DuCanto Catheter was born.
The SSCOR DuCanto Catheter has a large inner diameter and is made of rigid plastic, allowing medical personnel to control access around intraoral and intrapharyngeal tissue. It boasts an anatomically correct shape that is compatible with the newest laryngoscopes that have a slightly different angle and shape than older models.
"We are banking on removing a colossal amount of fear from pre-hospital, emergency, and critical care airway management."
But what makes SALAD an effective technique, and resource, for medical professionals isn't just that it gives them the physical tools they need, but also that it gives them a plan in situations where airway contamination is ongoing. Dr. DuCanto explains that SALAD "gives you a set of skills to apply as you're managing the problem, a set of procedures to be used in successive order to gain control of the situation. You keep going until you solve the problem. It gives you a solution to what can be a tremendously intimidating, dangerous, daunting problem."
Facing that fear is just as much a part of the SALAD technique as any other step. With more people wanting to learn the SALAD technique all the time, Dr. DuCanto encourages both trainers and trainees to not create a simulation where the student is likely to fail. Particularly for medics who have faced a similar experience, but didn't have the necessary, life-saving tools, learning the SALAD technique provides an opportunity to "retrain them to have a plan so when it shows up again, the fear and tension doesn't overwhelm them." The best way to learn the SALAD technique is to allow students to gradually gain proficiency, making them more confident. "We are banking on removing a colossal amount of fear from pre-hospital, emergency, and critical care airway management," Dr. DuCanto says.
"I want this to be an equalizer of caregivers of all levels."
Dr. DuCanto, who leads seminars and training sessions in SALAD, says that hearing from people who have had success using the technique has inspired and informed his own teaching. A common line of feedback he's received is to not keep his seminars simple, but to delve into the many little steps within the technique and all the back-up plans available for a variety of scenarios. The eagerness of these professionals is a testament to the popularity of the technique. When asked about how quickly SALAD has caught on among medical professionals, Dr. DuCanto says, "It has been adapted at a rate far faster than other techniques because it's simple and effective."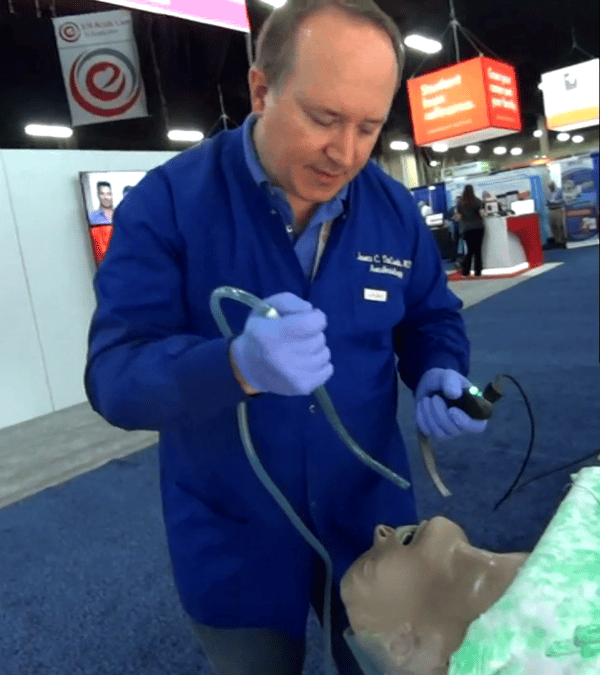 However, his ultimate hope for the way the SALAD technique is taught is for it to be a training module that is freely available to EMS educators and personnel. He wants to provide all the resources necessary, from written materials and videos to instructions on how to engineer a mannequin, so people can teach themselves. Ultimately, Dr. DuCanto wants this technique to be accessible, saying that his goal is "to change the practice of teaching airway management and to upgrade capabilities of caregivers of all different sorts to handle airways."
"I want this to be an equalizer of caregivers of all levels," he says. "The dream would be that it ceases to be a problem. You see a problem, you have a solution. You see a bad airway, you approach the airway with a methodology that allows you to be successful on the first try and if you fail, you know why you failed and it gives you the information that you need to know so you know what to do next."
"It's about having a chance to make a difference in medical practice, in our communities, in our nation, worldwide."
Talking to Dr. DuCanto, you know that he has just as much passion as knowledge, neither of which are in short supply, and how much it means to him to make a difference.
His enthusiasm for improving airway management worldwide is evident when you're talking to him and he answers questions you didn't even think to ask. That's how far ahead he's thinking. As he says, "When you're obsessed with something, this is what you're going to get. The reason I'm any good at anything is that I don't give up and that I don't stop and I just keep looking for the truth. And it's not about me being better than someone else. It's about having a chance to make a difference in medical practice, in our communities, in our nation, worldwide. I got a chance to do something I've always wanted to do: make a huge difference in medicine. It's really strange it's through getting rid of vomit, but if this is the huge quality gap that exists in human medicine because nobody wants to do it, well here it is."
When asked what one takeaway he wants people to understand about the SALAD technique, he gives all the credit to the technique itself. He calls it "The gift of the second decade of the 21st century to modern medicine to close the quality holes in airway management. This is something that is meant for everyone and my goal is one day no one will remember my name. They'll just practice the technique and that'll be it."